Request Consultation
In-Depth Family Law Consultation for $240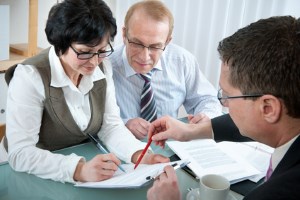 Family law and divorce courts are legal tools available for any American to use when working to solve legal problems. Usually, an attorney handles family law cases to provide needed advice regarding strategies and legal processes, even in the simplest divorce case. Sometimes, however, divorcing couples and individuals facing family law issues can handle more complex cases on their own with only minimal legal help.
At the Phoenix, Arizona, family law firm of Burns, Nickerson & Taylor we offer an uncommon family law service — a 1 – 2½ hour legal consultation with a lawyer for $240.
Unsure of how to proceed in your family law case? Afraid you overlooked something? Discuss all of your questions and concerns with us.
This consultation can be used to address any family law-related issue, and differs with each client. For example:
Divorcing couples wishing to save on attorneys' fees can come in before filing for divorce for a primer on how to proceed, or can come in midway through their process to learn how to hasten their case and divide property legally.
Parents in child custody disputes can get a big-picture understanding of their rights before proceeding with an enforcement or modification action.
Spouses and partners served with an order of protection or injunctions against harassment can discuss the validity of their domestic abuse charges and the advisability of attending a hearing to contest orders of protection.
Grandparents wishing to pursue legal rights can determine the potential risks in filing a custody or visitation case.
Spouses and individuals can bring in all papers relating to income and property and strategize legal goals and techniques to divide or protect property and future earnings.
We offer our $240 consultation for two important reasons. The first is to help you get a handle on what your costs will be. The second is to allow for the peace of mind of knowing you are on the right track when handling your family law legal matter.
Contact Us
If you have questions regarding paternity suits, parental rights and fathers rights, we can help. We charge reasonable rates and accept Visa and MasterCard. We are available for weekend and evening appointments under special circumstances, and are conveniently located in midtown Phoenix. To contact us, call 602-264-5555.
photo by Jupiterimages on GettyImages