Grandparents' Rights
Phoenix Grandparents' Rights Lawyers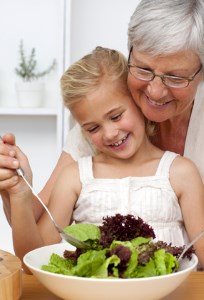 A grandparent's desire to visit with and have a relationship with a grandchild is natural. Time spent with grandparents can greatly enrich a child's life. Fortunately or unfortunately, a parent's legal rights will generally override the rights of the grandparents or other extended-family members.
Nonetheless, grandparents can have either visitation or even custody of their grandchildren awarded to them on some occasions. The granting of visitation and custody rights to children's grandparents is not an isolated event. This is because, in spite of parents' strong legal rights, courts place the rights and best interests of the child even higher.
If you are a grandparent and are interested in gaining or formalizing your rights as a grandparent or de facto parent, the Phoenix, Arizona, family law firm of Burns, Nickerson & Taylor can help. Lead attorney Neal C. Taylor is a grandparent of five and a one-time single parent. He understands the concerns of grandparents and has successfully resolved hundreds of family law cases.
Are you raising your grandchild and interested in establishing custody to serve your grandchild's best interests? Are you interested in establishing the legal right to visit your grandchild? Call 602-264-5555.
The pursuit of grandparents' rights often requires a great deal of strategy. If one or both of the child's parents remains involved or potentially involved with the child, a legal suit can have adverse effects. Before you begin, it's important to understand the chances of success and the possible consequences of failure.
We are skilled and experienced in fully preparing grandparents' rights cases before filing suit, and can advocate for your interests passionately and skillfully throughout the legal process. We can investigate, document and present relevant evidence that supports your visitation or custody claim, showing that you have been raising your grandchild and filling all of the roles of a parent.
Your relationship with your grandchild is important to you and to the child. It is essential that you take steps to protect that relationship. For more information on how we can establish and protect your rights as a grandparent, contact our firm.
Phoenix Grandparents' Rights Attorneys
If you have questions regarding paternity suits, parental rights and fathers' rights, we can help. We charge reasonable rates and accept Visa, MasterCard, Discover, and American Express. We are available for weekend and evening appointments under special circumstances, and are conveniently located in midtown Phoenix. Contact us online or call 602-264-5555.