Grandparent Visitation
Phoenix Grandparent Visitation Attorneys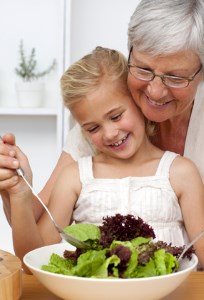 A child's relationship with his or her grandparents is a very special relationship.
Grandparents often "spoil" a child with presents and lots of love. In return children love their grandparents.
What happens when your son or daughter gets divorced and the ex-spouse is awarded custody of your grandchildren? If there has been animosity in the divorce, your son- or daughter-in-law may not care about your relationship with the children. Sometimes the ex may even be openly hostile and want to destroy  your relationship with your grandchildren.
The key is what kind of relationship has existed to this point. Remember: The best interests of the child are always the priority of Arizona courts. Depriving a child a beneficial relationship will only be done when there is a good reason. The parent, of course, has a constitutional right to custody and to make decisions for the child.
The motivations of the parent and the grandparent will be examined. If the parent is preventing the relationship out of pure spite, a court will likely order visitation rights or  custody to the grandparent. If the parent feels the relationship with the grandparent is unhealthy, or is somehow suspect, it is more likely the grandparents' rights will be, at least, limited.
There are prerequisites to a grandparent's request for visitation. The child's parents' marriage must be dissolved for three months. If the grandparents' child (parent of the grandchildren) has died, the grandparent must wait three months after the death.
Contact Grandparent Visitation Lawyers in Phoenix – Burns, Nickerson & Taylor
For over 25 years, lead family law attorney Neal C. Taylor has fought for his clients in state and federal courts throughout Arizona, and has helped hundreds of families. He is a father of three and a grandfather of five.
We charge reasonable rates and accept Visa, MasterCard, Discover, and American Express. We are available for weekend and evening appointments under special circumstances, and are conveniently located in midtown Phoenix. Contact a lawyer online or call 602-264-5555 to discuss family law matters.