Property and Debt Division / Settlement
Phoenix Property Division Lawyers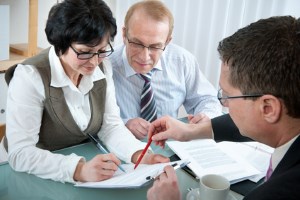 Who Gets What?
Who Owes What?
"You pay an attorney to predict."—Oliver Wendell Holmes, Jr., former Supreme Court justice
When negotiating and advocating for clients' rights, attorneys must often balance the needs and desires of the client with what will be considered reasonable by the court.
For instance, if a wealthy husband asks for 95 percent of all marital community property, he will likely not receive it, and will surely make a poor and damaging impression in the process.
At the Phoenix, Arizona, family law firm of Burns, Nickerson & Taylor our three-member attorney team has negotiated marital property settlements for hundreds of clients facing divorce. Our key challenge is matching your property interest to the family law courts' criteria for the division of community property. Over the past 20-25 years, we have finely honed our negotiating skills. Today, we knowledgeably work to predict mediators' and judges' assessments of your rights, and negotiate for your maximum property settlement.
Skilled Attorneys to Handle Property and Debt Division
Contrary to popular belief, marital community property is not divided equally, it is divided equitably. This means that family courts and mediators can exercise flexibility and discretion when dividing property. For instance, if you own part of a family business, a mediator can decide to award all of its ownership to you and award other property to your spouse instead.
We are skilled at investigating your situation, working with you to determine your most advantageous possible result and fighting for your highest-value award. We can also complete appraisals and work to uncover hidden accounts when applicable to protect your property rights. In short, we will work effectively to maximize your assets and minimize your debt following a divorce.
Contact Us
If you have questions regarding paternity suits, parental rights and fathers' rights, we can help. We charge reasonable rates and accept Visa, MasterCard, Discover, and American Express. We are available for weekend and evening appointments under special circumstances, and are conveniently located in midtown Phoenix. To contact us, call 602-264-5555.