Mediation
Phoenix Divorce Mediation Attorneys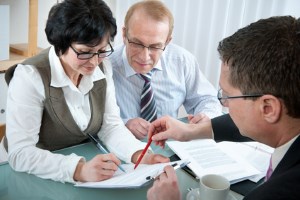 Each year, divorce mediation grows in popularity and usage in family law disputes in Arizona. While not actually mandatory at this point, family law courts do require that parties at least consider a form of alternative dispute resolution when attempting to resolve family law disagreements. The choice of mediation sends a signal of cooperation and is a very effective way of resolving many disputes.
Divorce mediation brings with it many valuable advantages over courtroom litigation. It is usually much less expensive. It puts final decisions in your hands, not a judge's. It is generally quicker than litigation. And it offers more privacy: many elements of family law disputes that would end up in the public record in courtroom litigation need never be disclosed when mediation is chosen.
At the Phoenix, Arizona, family law firm of Burns, Nickerson & Taylor, we are experienced with family law mediation and can often greatly enhance your relative position when working to resolve disputes. Our mediation services fall under two general categories:
If we formally represent you in your overall family law case, we will attend your mediation meetings and make sure your interests are protected throughout the mediation process.
If we do not formally represent you, we can coach you prior to your meetings. Armed with knowledge regarding your rights and settlement options, you will be better positioned to achieve your custody, visitation, support and property goals.
Despite the relative civility of mediation in comparison to litigation, stakes nonetheless remain high. And, if a mediator fails to remain fully objective, it can quickly work against your interest in resolving the issues fairly.
Through proactive representation and assistance prior to and during mediation, we give you the best chance to succeed.
Contact Us
If you have questions regarding paternity suits, parental rights and fathers rights, we can help. We charge reasonable rates and accept. Visa, MasterCard, Discover, and American Express We are available for weekend and evening appointments under special circumstances, and are conveniently located in midtown Phoenix. To contact us, call 602-264-5555.